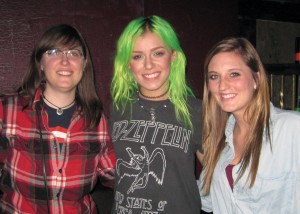 If you ask us, the best thing to come out of Australia right now is, hands down, Sydney's own Tonight Alive. Formed back in 2008, the band worked their asses off to get out of Australia and make a name for themselves internationally – not an easy task for most bands, let alone ones all the way from Oz – and they show no signs of stopping any time soon. They caught our eye with their first album What Are You So Scared Of? and now, with the release of their new album The Other Side, TA are quickly becoming a major force to be reckoned with, and we're stoked to support them on their way. We recently had the pleasure of catching up with lead vocalist Jenna McDougall before the New York City date of The Other Side Tour (their FIRST sold out headline show in America!). We talked about everything from touring and gifts from fans to Doritos because, let's face it, we're pretty much incapable of doing an entirely serious interview here at PF. But Jenna was game for answering any questions we threw her way, which is why she's one of the most awesome people in music right now…
How did you react when you found out tonight's show [at The Studio @ Webster Hall in New York] sold out?
I guess, firstly of course, we were surprised. This is our first headline tour [in the US], and it's really hard to gauge where we're at as a headlining band because we've never done it before. We've toured here, like, seven times but never had the chance to be the headline act. It's such a different game, but we're really, really, really happy.
Who or what got you into music – an album, an artist, a family member?
Growing up, my dad played a lot of music all the time. Every time he drove us to school, there was music on in the car. After school, he always had music playing in the garage. We used to go camping and he always had music playing. So I guess I appreciated music from a young age because of his love for music and always testing me on the artist or the album name or the year it came out. Even though that's crazy to test a child on that stuff, I think he just always knew it was an important thing. I always sang from a young age, but I didn't start playing guitar until I was 10, which is really when music, you know, it changed for me because I could start to accompany myself. That meant I could perform and it also meant I could song-write, so 10 was really the age where passion became involved.
When you were little, what did you want to be when you grew up?
I kind of fascinated about being Judge Judy but "Judge Jenna." It's kind of a joke, but I was serious about it for a little while because it was another thing where I'd come home from school, and it was the first thing that was on TV at 3:30 in the afternoon. I think I was just attracted to how powerful she was. I really liked how she was sassy and she didn't take crap from anybody, so that was the first thing I ever said "I want to be…" but from then on, it was always a singer or helping people in some way. I wanted to be a youth counselor for a little while, like run summer camps and stuff. So a communicative kind of job is what I wanted to be a part of.
What do you do with all of the gifts you get out on the road?
I have a drawer in my bedroom. I have a set of drawers, and it's the deepest one. It's actually full now, and I need to find a new place, but I bring back all the letters that I can. When I take my bracelets off, I keep them as well. I keep toys and mix CDs. I would hate to let go of any of that stuff because I know what it means to sit down and write a letter to somebody. For a stranger to do that for me, I guess it just… I guess the simplest way to say it is that I appreciate it and I'm grateful for that honesty and that personal connection to our fans, so I kind of hoard those things.
Even on tour? What about your tour bus?
Yeah, it's a mess. My bed, all down the sides where the mattress is, I stick things down the sides just because I don't know where else to put it! It's always at the end of the tour where I organize things.
What's the most unusual gift you've gotten on tour from a fan?
Sometimes half-eaten things are definitely the weirdest. Like today, I appreciate that someone ordered Tim Tams all the way from Australia, but the packet was half-eaten when she handed it to me. It's just funny. You've got to laugh about it. It's kind of thoughtful, but it's also kind of weird.
If they made a Tonight Alive movie, who would play you?
I love Drew Barrymore. She's cool. I also really liked Julia Stiles, but that's only because of 10 Things I Hate About You. She hasn't really played that many cool roles since then. Recently, she did Silver Linings Playbook and she was, like, a really angry, pissed off person, and I was like, "Aww, I don't like her so much anymore."
What would the lineup be for your ultimate concert?
Rage Against The Machine, Jimi Hendrix, Bob Marley, Alanis Morissette, Red Hot Chili Peppers… they're not all still in existence, but they are five artists that I listen to every day, so I would like to see them live.
*NSYNC or Backstreet Boys?
Backstreet Boys
Favorite US City?
I don't want to be cliche, but New York. It's just really cultural here. I also like Philadelphia, and I also like Lancaster cause I was there the other day. And I also love New Orleans… but I think New York is number one.
Coffee or tea?
Tea. I like green tea, I like peppermint tea… I only like coffee when it's mixed with other things, like a frappuccino or a pumpkin spice latte.
Biggest pet peeve?
I hate it when people don't say "please" or when they don't say "thank you," and I hate it when people walk really slowly in front of you. That drives me crazy.
What's your favorite pizza topping?
It has to be super, super cheesy, and I actually really like Mediterranean stuff, like with feta and peppers and olives. Mediterranean's my favorite.
Do you believe in ghosts?
Not so much ghosts as I do spirits and demons. That stuff messes me up.
Has anything spooky ever happened on tour?
Sometimes. I don't know if it's in my head, but late at night, I'll feel like I see a shadow across my eyes, and I'm like, "Am I just wanting to see that?" I scare myself because I've seen Paranormal Activity – all four of them – and I wish I never did because it's ruined me a little bit.
What's your favorite Internet meme?
I love the girl that cries. I don't know what it says… the depressed girl who cries. Those are always so hilarious. [PF Note: We figured out that the name of the meme is First World Problems – and it is, indeed, hilarious.]
Chocolate or rainbow sprinkles?
Chocolate. I'm such a chocolate addict.
Cool Ranch or regular Doritos?
I friggin' love Cool Ranch Doritos. I love that flavor! It's such a good combination of everything.
… and then we had a discussion about ranch dressing, which apparently isn't a thing in Australia and that bums us out. Send all the ranch dressing to Australia, guys!
Tonight Alive is out on The Other Side Tour through November 23rd. Be sure to pick up their brand new album The Other Side, available worldwide now. This is a band we really think is going to do big things. The last time we felt this way about a band… well you know. 😉
A HUGE, GIGANTIC "thank you" goes out to Jenna, TA's tour manager Zack Marshall, and Mike and Peter at KMGMT, without whom none of this would have been possible. Rock on, guys, and we'll see you again soon!
Article and Photo: Chriss and Kaitlyn