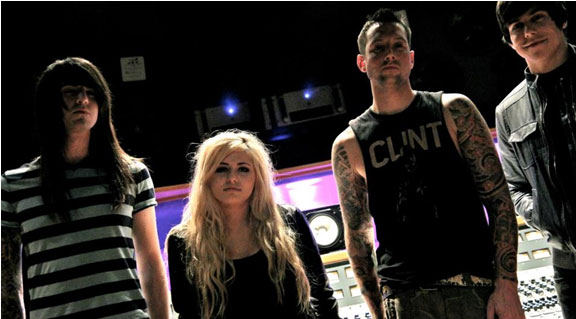 Our Band of the Month for February are Running The Risk who are a rock band coming from Los Angeles and they are – Nicki Taylor on vocals,  Curtis Corwin (who I've to inform you is AWESOME!) on bass, Nick Bell on lead guitar and Aaron Cohan on drums. They're all fans of Paramore and would like to escalate what Paramore have achieved. But don't be fooled by thinking they sound like them. The band may have a female lead singer but that's where the similarities end. Running The Risk are a band in their own right and deserve to have that respect too. Later this month we'll be speaking to Nicki about how it feels to be in a band that's automatically judged and compared to a bigger band without being given a chance, and how frustrating it can be.
As for Running the Risk their  first output as a group was a collection of tunes/demos rightfully called "The Monster EP" which contained original songs centered around impulses of love, hate, and rebirth. Running the Risk decided to give the EP away for free, and it quickly spread around the web, gaining positive reviews from fans and critics alike. As well as radio play around Central California.
With Running the Risk set to release the first half of their two part official EP "Because We Can" at the beginning of the year through indie label, In Flight Music Group, all systems are go. The vinyl 7″ release contains two songs you may have heard before: Black Sabbath's "War Pigs" (which has been flipped, turned, and jacked up) along with Talk Talk's "Talk Talk." The band has been hush hush about where the idea to mix these two songs came from, they're only explanation so far has been "Because We Can," which has now become the title. Tour Dates along the West Coast will be announced along with the release of the EP.
Over the coming month we'll be providing updates on how Running The Risk are doing as they do photo shoots and release their new EP as well as providing an interview with the band. As the year goes on we'll do regular updates and let you all know about how our February Band of the Month is getting on. Whether it be tour dates, or new releases, you'll hear about it here!
Catch them at their official website – www.runningtherisk.com
You can catch them on Twitter –
http://www.twitter.com/runningtherisk
http://www.twitter.com/curtiscorwin
http://www.twitter.com/doublea
http://www.twitter.com/nicolas_bell
http://www.twitter.com/imnickitaylor
Or, you can catch them on Facebook – www.facebook.com/runningtherisk
Here you can catch their free "The Monster EP" for the simple exchange of your e-mail address.
The Interview
I caught up with Running The Risk to ask them about their band and about Paramore. We got given some pretty amazing answers including a little gem of a story about Hayley in her younger days just kicking off her career. Instead of just conducting an interview with the lead singer Nicki, i done an interview with the entire band. We all know how frustrating it is for a bands lead singer to get all the attention when there are super talented musicians by her side too. They also gave us some excellent advice for any budding musicians out there so i present to you – Running The Risk!
How did Running The Risk become a band?
We actually met through Craigslist. It was pretty magical.
Nicki, you were a solo artist for a couple of years which brought you a fan base. Was it always your intention to front a band?
Honestly, being a solo artist is not as fun and can get very lonely… plus I wasn't a huge fan of having the spotlight all to myself, it's just weird. I always knew being in a band was the right thing for me and the music. I love always having three other artists around me to throw ideas around and enjoy all these experiences with.
Nick, what got you into playing the guitar?
I got into guitar because I wanted to be able to play what sounded cool to me from the radio and my parents Tapes growing up, Elvis, Van Halen, Jimi Hendrix ect.. I finally got a guitar when I was 13 and I couldn't put it down
If you were to give advice to anyone who wishes to start learning to play the guitar, what would you give them?
Start off covering stuff you like, even if it may sound a bit challenging at the time, and practice as much as possible everyday.
Nicki, if you'd to give any budding singers some advice what would it be?
I think the best advice I could give to singers is to take lessons from an experienced coach, sing what you love, and don't try to sound like anyone else. Your best voice is your own. 🙂
Also singing improperly can damage your voice horribly… be careful!
Curtis, what got you into playing the bass guitar?
I started playing guitar back in high school, but then my buddy (who plays drums) joined a band that needed a bass player. I borrowed a bass, learned the songs, and ended up joining that band. I've been "slappin' da bass" ever since.
If you were to give advice to someone who wants to start learning bass guitar, what would you give them?
Practice! Learn as many songs as you can. Find bands that you like in different genres of music, and learn their songs. Just play as much as you can, commit to it and you will improve.
Aaron, what got you into playing the drums?
I realized I couldn't sing!!
If anyone was wishing to start learning the drums, what advice would you give them?
Get lessons for at least the basics! I didn't and had to go back and relearn things.
Also practice to a click.. It makes a huge difference!!
You guys have made it known you're fans of Paramore, how did you first find out about them?
Nicki: I think I probably first heard about Paramore on the radio when Misery Business first came out… There was a time when my local radio station played in like 4 times in an hour! haha
Nick: I discovered paramore by the release of their riot album. A friend got me a copy and I was a fan instantly.
Aaron: I actually met Hayley and became a fan of her before Paramore blew up. I was playing with a band on Taste Of Chaos '05 when Kevin Lymann had her play a few dates on an acoustic stage.
Curtis: I saw a commercial on MTV for Riot so I went out and bought it.
Aaron, that is a pretty interesting story! What was it like meeting a young Hayley Williams? Did she play any future Paramore hits?
Hayley was super nice!! We went and checked her out at a little club one night with Kevin Lymann. She was for sure playing Paramore songs! One in particular I remember was Hallelujah! The crowd wasn't big but the response was!! People were saying "where did this little girl come from"? I remember hanging out with her for at least two or three dates. She mentioned that she was in a new band.. I said let me know if you need a drummer.. She replied.. "I have one." I replied keep me in mind. Haha!
Next time I saw her was on Fuse TV!
What is your favourite Paramore song?
Nicki: It kind of changes depending on how I'm feeling. At the moment I'd say "That's What You Get" would be my favorite. I can really relate.
Nick: Crushcrushcrush
Aaron: Crushcrushcrush
Curtis: Probably "Emergency" off of their first record.
If you'd to cover any song what would it be?
Nick: One – Metallica
Nicki: Mr. Brightside – The Killers
Aaron: Hmmm.. Good question. Ahhh… Kickstart My Heart by Mötley Crüe
Curtis: Hysteria by Muse because the bass line is awesome.
What are your plans for Running The Risk in 2012?
The plan is to write and put out as much quality music as possible. We're putting out an EP called "Because We Can" soon this year. It's of two covers we worked our ass off on to do them justice.. Also we plan on putting together a west coast tour(United States)!
PREVIOUS FEATURED BANDS
February 2012 – Running The Risk
June/July 2011 – We Are The In Crowd
October/November 2010 – The Swellers
August/September 2010 – Siren
July 2010 – The Hollow Sound
June 2010 – The Dangerous Summer
Nov 2009 – Futures
Oct 2009 – We Shot The Moon